.
RSN?
Ech COBHC
2.
What is your F2P Combat Level/P2P Combat Level/Hitpoints Level?
126/138/99
3.
Post a picture of your pking supplies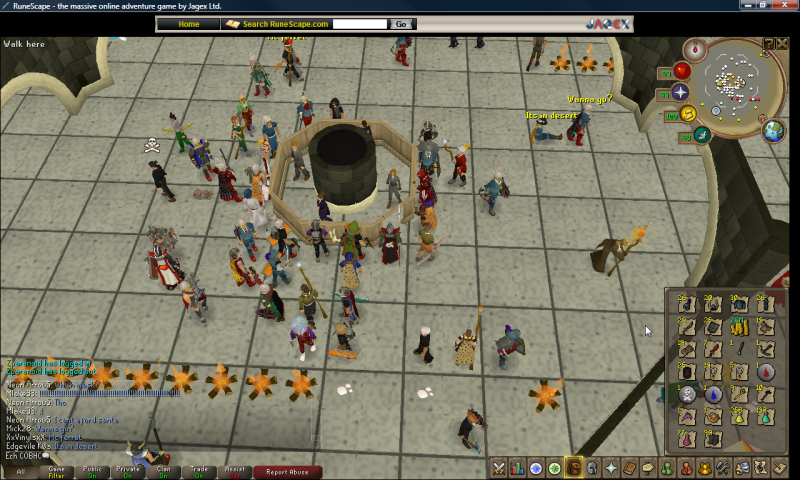 the 1's are always changing or currently more are being bought.
4.
Clan history?
QUOTE
The Devils Clan - 2 weeks - Closed
The Dynasty - 1 month - Didnt know anyone, my RL friends wanted me to just try DW out, i said sure as i made no effect to TD in any way.
Dragonwood - 2 weeks - Constant childish acts, RL friends moved on to bigger clans, i followed, still not really that into the game to tkae my actions into consideration
Corruption - 2-3 Months- It was fun, i made a lot of friends, the pking was good, but the flaming image wasnt, my old friends now DI constantly asked me to join them, after one flame to many, i took the chance.

Damage Inc - 5 Months - WoW and School overpowered me and i called it quits in a stupid action and never followed up with a 3rd app after i missed out on the 2nd.

-Hopping period-
Awaken - 2 weeks - Gen Shop, enough said.

RoT - 1 month - After constant portals, i started to not really enjoy it much, a few people got on my nerves and although i had fun, i didnt really feel i fit in or anything

Celestial Knights - 1 month - Suffo asked me to give it a go, i did, made it to FA manager, inactivity from me and unable to really care about majority of the members (Just didnt click) i called it quits in.

IP - Few days - I was on good terms with 100Fightmage after RoT, he asked me to try Infamous Pkers out, it was ok, but my gran had died irl and i wasnt active at all so i couldnt meet activtity reqs at all.
-end hopping-

DF - 6ish Months - Joined november 2006, was great at the start, then Death left, clan fell apart, immature twats ruined it and DS dying meant my one largest hate on RS was actually massed to be with me, with DS came a load of stupid little kids, crashers, hypocrits and just plain out dicks, i regret being a part of it, but it was good under Death, plus my addiction to staking exploded at this time and it took over my online time embarassed(2).gif

Serenity - Few days - someone on my msn said it was an alright community, gave it a look, but i dunno, didnt really seem to know anyone, have a chance to meet anyone, and Dogflogger convinced me to help him due to me not really knowing anyone or ahving any part to be enjoying.

Unity - 1-2months - fun start, nice community, actively warring, General Shop quit for VR and took pretty much all of the clan with him to just go get declined, God Wars had also been released and our addictions to those trips ended up in us being unable to gain an interest in trying to rebuild, after a week we decided to end on a high.

-2 month gap-

The Rising - 2 Weeks as FA - After a clanless period Dog told me to give it a go, i liked it and would have stayed for defs, but every event was at bad times, yeah im GMT and its a GMT clan, but damn, its hard making the pk trips, im easily suited for EST as im always usually online late or get home late which is when an est trip is starting, but daily trips starting at 7-tease.gifm when im still out due to college/volunteer after college work i just cant attend anything, i managed a few times to show up late right as it ended, it got old.

Dragonwood - 2 weeks - I decided to go back to my roots as i was still active with them due to being clan friend, but nothing had changed, its just arguments, people who arent even in clan had more of a right to anything than people in the clan. Was nothing to be active for and i only seemed to talk to my friends in here.


Damage Inc #2 - I re-introed around the end of december 07 and was reaccepted february 08, it was great, had fun with the community and made a lot of friends, some irl friends now and some friends ill talk to for as long as i use msn. Things turned bad when i went to university, i also started playing WoW with Diether and as it shown, i wasnt able to organise priorities then or keep to my commitments and was kicked after about 9-10 months of membership in DI, along with Null.

VR - about six or seven months passed where i wasnt involved with much in the game, in may 09, uni social life was still full and i knew i personally would never be able to make the time or commitment needed for DI at the time, i was missing pking so like before, i talked to a few friends and tried vr (being the only clan friends outside of Di seemed to be in), but after a fortnight or so, with moving home, seeing old friends etc i couldnt keep up the activity required and cancelled my fa, i probably wouldve tried harder but the clan itself (whilst i did enjoy it somewhat) didnt feel like a home.
5.
Referal Names?
Jbomb207
6.
Why do you want to join Di? (At least 75 words)
The community and experiences, before i was kicked playing Runescape was always much more fun having the DI community there alongside and it was a good time, inactivity got the better of me and having been playing again for a while, its just not the same without a clan ive had my best times alongside. Noone else measures up and it doesnt feel the same elsewhere, being a part of DI makes me want to continue fighting and now that im active i want to prove i can keep at helping the clan progress
7.
Do you play Runescape? Or only log on for pk trips(/clan events)
I play
8.
Did you know any Di members before introing? If so, who?
Everyone senior and above, a few proud and a few new due to boards/history.
9.
Did you have a mentor? If so, who?
Null Strikes
10.
Do you see yourself going inactive for any reason in the next 6 months?
No, maybe over Christmas holidays for a week if that counts?
11.
Are you able to attend events on Saturdays or is there something now or in the future which may prevent you doing so?
Yes
12.
Is there anything you wish to declare now that if discovered at a later stage may result in you being kicked?
-
13.
Link to introduction
:
http://www.di-rs.com/forums/index.php?showtopic=82394